Building an important engine for steering China's printing industry toward high-quality development
-Press conference of PRINT CHINA 2019 successfully held in Dongguan

The Fourth International Printing Technology Exhibition of China (Guangdong) ("Print China 2019"), co-sponsored by the Printing and Printing Equipment Industries Association of China("PEIAC"), The Printing and Replicating Industrial Association of Guangdong and China International Exhibition Center Group Corporation, is scheduled to be held at the Guangdong Modern International Exhibition Center (GDE), Dongguan, Guangdong Province between April 9th-13th, 2019. Since its launch, the project has received great support and widespread attention from our counterparts in the industry. To brief them on the latest developments of the event, on the afternoon of April 11, the Organizing Committee of Print China 2019 launched a press conference on the fourth floor (Conference Room No. F3) of Regal Palace Hotel Dongguan - the first of its type in Dongguan where the exhibition is to be hosted.
The Press Conference was chaired by Ms. Wang Fengna, Deputy Secretary-general of the Printing and Printing Equipment Industries Association of China.
Mr. Lu Chang'an, Vice Chairman of PEIAC and President of Print China Show Company Limited, delivered a keynote speech. In his speech, Mr. Lu elaborated incisively on the essence and significance of the exhibition theme – intelligence-led, integrative innovation, service transformation and green development. Further, he described systematically and detailedly the future trend and main features of China's printing sector and the market positioning of Print China 2019.
In his impassioned speech, Mr. Fang Huoli, Chairman of Houjie Township People's Congress of Dongguan City, explained at length the exhibition environment in Dongguan, policy support of local government to exhibitions and various measures taken by the township government to bring about a successful Print China 2019.
Mr. Chen Jun, Chief Advisor to The Printing and Replicating Industrial Association of Guangdong and Deputy Chairman of Print China Show Company Limited, introduced the industrial status, market size and technical strength of the Guangdong printing business. He also shared the overall concept and specific proposal of The Printing and Replicating Industrial Association of Guangdong for organizing buyers to the exhibition.
Vice President Zheng Shijun of China International Exhibition Center Group Corporation provided information on the company's organization structure and business strength, as well as the major measures adopted by the company to promote Print China 2019 through the trade promotion system.
In his PPT presentation, Mr. Chen Jinming, Vice Exhibition Director of PEIAC and Exhibition Director of Print China Show Company Limited, gave a well-illustrated introduction to Print China 2019, from major exhibition concepts, overall plan and comprehensive advantages to the latest progress in exhibitor invitation, and innovative measures taken to promote the event, attract exhibitors and organize buyers. Before concluding of the press conference, the participating officials answered questions from visitors as well as the media. During this process, the organization plan has been further elaborated, goals clarified and consensus built in pursuing development. In general, confidence in the industry has been increased.
More than 120 people attended this Press Conference, including officials from the competent government departments of Dongguan, such as the Bureau of Commerce of Dongguan, the Government of Houjie Town, the Convention and Exhibition Office of Houjie Town, leaders of the printing industries in Guangdong, Guangxi, Jiangxi, Zhejiang and other provinces, officials of the printing industries at the municipal level, such as Guangzhou, Shenzhen, Dongguan, Huizhou, Qingyuan, Huazhou, Zhanjiang, Yunfu (Guangdong) and Wenzhou (Zhejiang), representatives of exhibitors, such as Lucky HuaGuang, DIC, Dongguan Shengtu, Shanghai Lidun, Li Shun Yuan, Yaguang Machinery, Weizhou Hongying Machinery, Zhejiang Zhengrun Machinery, Changying Yongchen, Ruian Universal Machinery, Zhanjiang Baoxin and Xunyue Software, representatives of exhibition service providers, such as GDE, Guangzhou Yuelian, Dongguan Feifan, Dongguan Hongjin, Dongguan Tangyi and DITS, as well as reporters from professional media (including print media, television, radio and network media) and mass media both at home and abroad.
The conference room was filled with capable and eminent guests. Together, they envisaged the demonstrative leading role and efficient trade function of Print China 2019 in the new era of China's macro economy as its showcase new trends, switches to new driving forces, opens up new directions and embarks on a new journey. In this process, everyone was inspired and convinced. The atmosphere was quite warm and animated.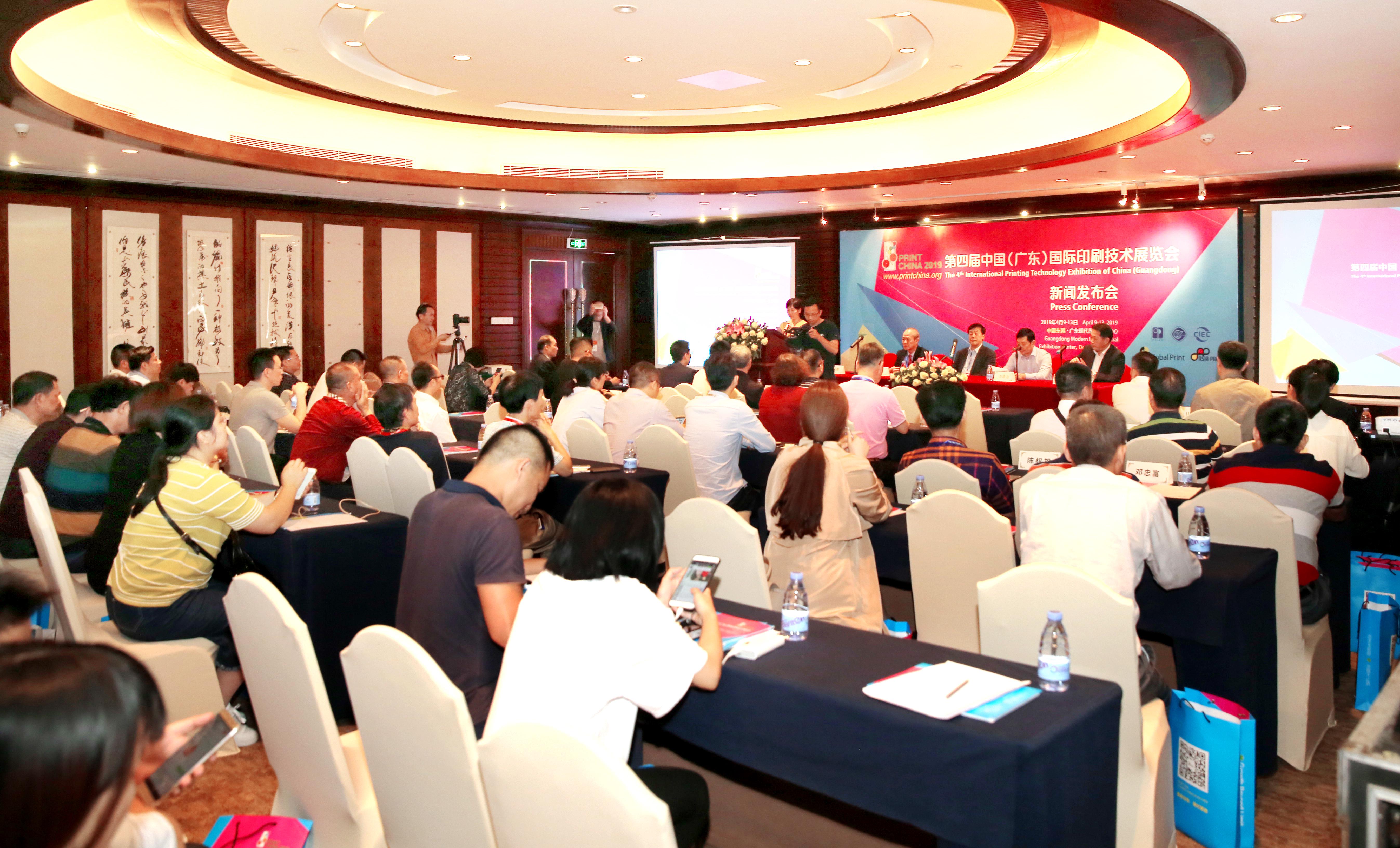 As soon as the Press Conference came to an end, Nanfang Daily – a mass media in Guangdong province, reported this grand occasion and the latest developments in preparation for Print China 2019. The article, titled "Amazing! This exhibition in Dongguan had its booths booked up one year before the exhibition", was published on the official WeChat account of Guangdong Newspaper Group.
While the Press Conference was still in progress, interesting videos of Vice Chairman Lu Chang'an expounding on the theme of the exhibition was released by reporters of Dongguan Television Station through the official WeChat account. The videos then went viral as they were forwarded by WeChat friends from the industry. The day following the Press Conference, the second section of Houjie Daily carried a feature story on the event as the headline. During the past several days, the event was covered successively by dozens of other media from different perspectives and in varied forms.
After the Press Conference, GDE Information Department sent a special team of four reporters to Print China Show Company Limited, where they interviewed Chen Jinming, Vice Exhibition Director of PEIAC and Exhibition Director of Print China Show Company Limited. During the interview, they learned about the history of Print China as well as the organization concept, operation mode and expected results of Print China 2019. Moreover, they consulted Chen as to how should GDE improve its software and hardware environment to provide better and more considerate services to Print China, among other matters. The direction of and concrete measures for future cooperation at a deeper level were discussed as well. As Print China - a major international printing exhibition, entered in its second decade of development, Guangdong Modern International Exhibition Center expressed its full support to PEIAC in staying true to its original intention and pressing forward to make new achievements.
Since Print China 2019 was launched in May, 2017 during the China Print 2017, preparation for the exhibition has been ongoing for almost a year and everything now progresses smoothly. As of March 31, approximately 500 exhibitors have submitted their exhibition applications promising to take up 80,000-odd m2 of display area, about 60% of the total. As such, effort to attract exhibitors is expected to complete ahead of schedule by the end of December this year. With a projected display area of 140,000 m2, Print China 2019 is anticipated to receive 1,200 exhibitors and over 200,000 professional visitors.
As usual, Print China 2019 will feature dedicated display areas and exhibition halls. Ten major exhibition sections will be set up, covering digital prepress, print equipment, post-press finishing, package and printing, label printing, inkjet printing, corrugated carton, screen printing, equipment and consumables, and components. Another five themed display areas will be opened, including Internet + smart packaging, intelligent robot + printing, 3D printing, green printing and VOCs comprehensive treatment, and laser + printing.
To deliver a successful Print China 2019, and mobilize more famous exhibitors and professional buyers to the event for exhibition and purchase respectively, the Organizing Committee will allow full play to the industry influence and market appeal of the Printing and Printing Equipment Industries Association of China and take advantage of extensive market resources of The Printing and Replicating Industrial Association of Guangdong in the Guangdong-Hong Kong-Macao Greater Bay Area and Southeast Asia. The global trade promotion network of China International Exhibition Center Group Corporation will be utilized along with the professional organization structure of such international organizations as Global Print and Asia Print. Through various effective channels, the Organizing Committee will spare no effort to invite exhibitors and professional visitors from all over the world. With a global vision and in line with the international standard, the Organizing Committee is resolved to bring about yet another major international exhibition that is the best in China and first-rate worldwide. In doing so, the Organizing Committee hopes to boost the development of China's printing industry in the new era.