Profile of GDE
Guangdong Modern International Exhibition Center (hereinafter referred to as "GDE") is situated in Dongguan city, Guangdong province at the center of the PRD cities. It lies at the middle section of the Guangzhou-Hong Kong Economic Corridor with Guangzhou and Huizhou in the north and Shenzhen, Hong Kong in the south, facing the Southeast Asia region across the sea.
Superior geographical location and strong industrial clusters have made Dongguan the "City of Industrial Exhibition in South China". Thanks to more than a decade of rapid development, GDE has now become a renowned industrial exhibition base both at home and abroad.
In the past years, GDE has been honored The Best Venue in China for Comprehensive Service, Top Ten Enterprises of Attention in the Chinese Exhibition Industry, Recommended Fortune 20 Exhibition Centers of the Chinese Exhibition Industry, Top 10 Exhibition Enterprises of China and Top 10 Brand Exhibition Venues in China. It is now an overseas member of the Hong Kong Exhibition and Convention Industry Association (HKECIA), Vice President Unit of Guangdong General Chamber of Commerce, member of China Association for Exhibition Centers, council member of China Convention and Exhibition Society (CCES) and member of The Federation of Consumer Products Trade Center of All China Cities under the Chinese Ministry of Commerce. GDE became an UFI member in 2004.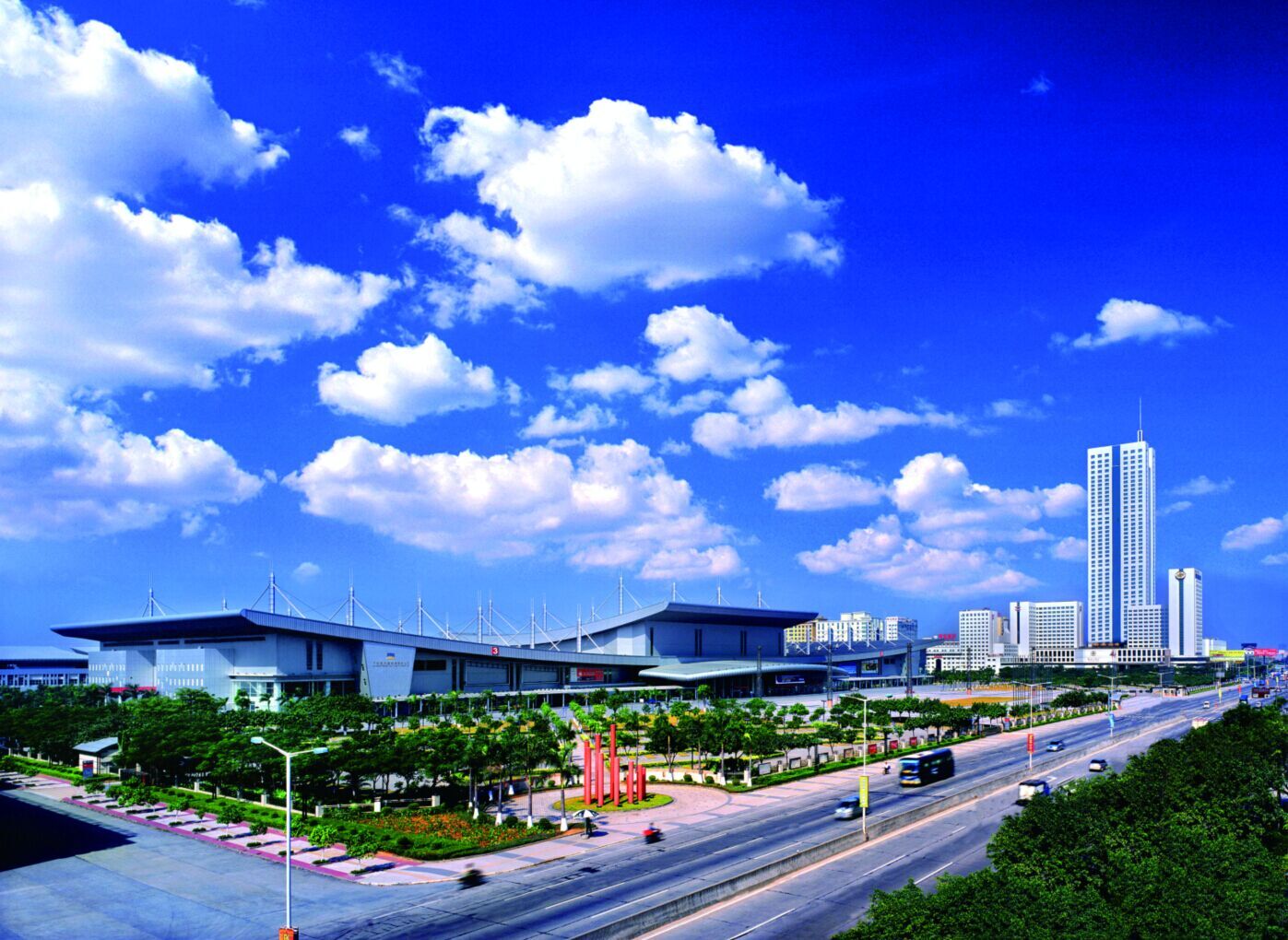 Guangdong Modern International Exhibition Center boasts six large exhibition halls and 11 conference rooms of all sizes. The total indoor display area reaches up to 130,000 square meters. Every year, over 100 fairs and events are held in GDE, including brand exhibitions of national and international influence, such as the Famous Furniture Fair, Print China, Textile Machinery Exhibition, SinoCorrugated, Auto Exhibition & Trade Fair, Processing Trade Products Fair, International Animation Copyright Fair, Maritime Silk Road Expo, Taiwan Famous Products Fair, Taiwan Famous Goods Fairs, DMP Show, Weighing Instruments Exhibition, and so on.

Guangdong Modern International Exhibition Center features superior location and convenient transportation. Starting from Houjie town, it is only one-hour drive to all the major cities, including Guangzhou, Shenzhen, Zhuhai, Hong Kong, Maocau, Zhongshan, Foshan and Huizhou. Dongguan Rail Transit R2 Line that links the Railway Station and High-Speech Rail Station, is also connected with GDE. The Guangzhou-Dongguan-Shenzhen Intercity Railway with stops respectively on the two sides of the GDE, provides direct access to the two international airports in Guangzhou and Shenzhen. From the Humen Passenger Terminal, one can get to the Hong Kong International Airport in 70 minutes by water. With many hotels scattered within 15 minutes' drive of the exhibition site, up to 10,000 guest rooms are available for choice by the exhibitors and buyers.

Looking ahead, Guangdong Modern International Exhibition Center will continue to follow the "one-station A +" service philosophy to build a comprehensive exhibition industrial ecology in South China. We will work with our counterparts in China and abroad to seek win-win development. We will do our utmost to provide exhibitors and buyers with the best value for money, offering better services and diversified choices at a lower price.