China Print and Print China Seek Collaborative Innovation
-Press Conference and Launch Ceremony of the Fourth International Printing Technology Exhibition of China (Guangdong) opened grandly in Beijing

The Press Conference and Launch Ceremony for the Fourth International Printing Technology Exhibition of China (Guangdong) ("Print China 2019"), organized by the Printing and Printing Equipment Industries Association of China, Guangdong Printing Association and China International Exhibition Center Group Corporation, was grandly opened on the afternoon of May 10 at the China International Exhibition Center (new venue) in Beijing as the city observes the opening of the 9th Beijing International Printing Technology Exhibition ("China Print 2017") on May 9-13, 2017.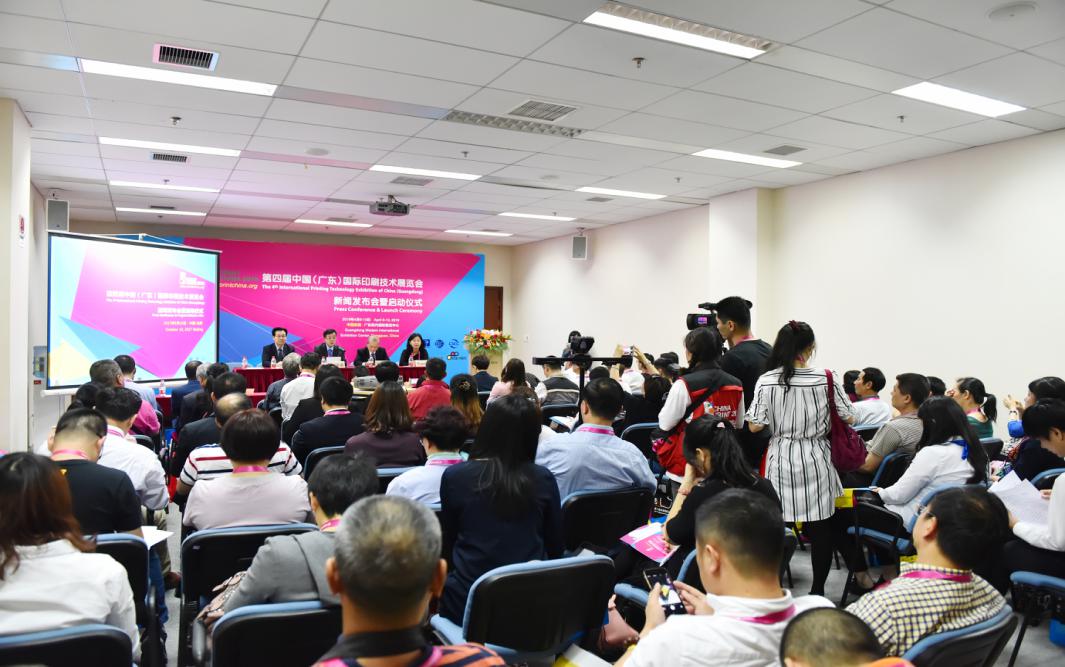 Fully mobilized and launched across the board with a clear picture of the development direction and industry trend
The meeting was chaired by Ms. Wang Fengna, deputy secretary-general of the Printing and Printing Equipment Industries Association of China and vice-general manager of China Print Show Company Limited.
Mr. Lu Chang'an, vice chairman of the Printing and Printing Equipment Industries Association of China, and president and general manager of Print China Show Company Limited, delivered a keynote speech on the Status Quo of China's Printing Industry and Its Future Trend on behalf of the Organizing Committee. With accurate and detailed statistical data, Lu in his speech provided a thorough analysis and systematic explanation of the present situation of China's printing sector as well as the main factors affecting the market circumstances. Through rational analysis and scientific study and judgment of the industry's future trend, Lu pointed out the main direction and basic path of development for China's printing industry in the coming five years. He also aired important opinions as to how should China's printing industry see through the situations towards a clear direction and use the exhibition as a platform for promoting collaborative innovation for win-win cooperation, so as to drive the upgrading and transformation of the industry for better quality and efficiency.
Mr. Chen Jun, president of Guangdong Printing Association and vice president of Print China Show Company Limited, introduced the market conditions of the local printing sector and its major features. He spoke highly of the important role of Print China in driving and guiding the development of the printing industry in Southern China. He also expressed his best wishes and earnest expectations for Print China to stick to the traditions and scale new heights in the new era.
In his PPT presentation, Mr. Chen Jinming, vice exhibition director of the Printing and Printing Equipment Industries Association of China, and exhibition director of Print China Show Company Limited, gave a comprehensive and systematic introduction to Print China 2019, from brand connotation, planning concept, overall framework to marketing plan and service measures. Chen also expressed the firm belief and unswerving efforts of the Organizing Committee to work with the whole industry in the coming two years of preparation towards building Print China into a prime printing show of the world.
Advancing supply-side reform to enhance the foundation and open up a new situation
In his keynote speech, vice chairman Lu Chang'an underlined that according to the national strategic plan, the domestic printing sector must speed up supply-side reform in the next two years and promptly identify the starting and growth point for promoting integrative development of the "supply side" and the "demand side" to remove major obstacles and weaknesses restraining independent innovation and sustainable development of the industry. Various enterprises should take the opportunity of Print China 2019 in Dongguan to make new breakthroughs and progress in reform and innovation and exhibit new products and achievements. They should leverage the exemplary role, transactional functions and spreading channel of the exhibition to shift the industry from extensive growth dominated by scale expansion to sustainable development oriented to quality and efficiency, from traditional factor-oriented development to innovative elements-oriented development, from mid-low end of the value chain to the mid-to-high end, and focus on the R&D process to coordinated operation and planning of the industrial, innovation and fund chains. Various enterprises should build up confidence and go all out to promote a new development pattern for China's printing industry that features the penetration and integration of general-purpose high technologies (featuring full elements, wide range, multi level and high efficiency) and special printing techniques.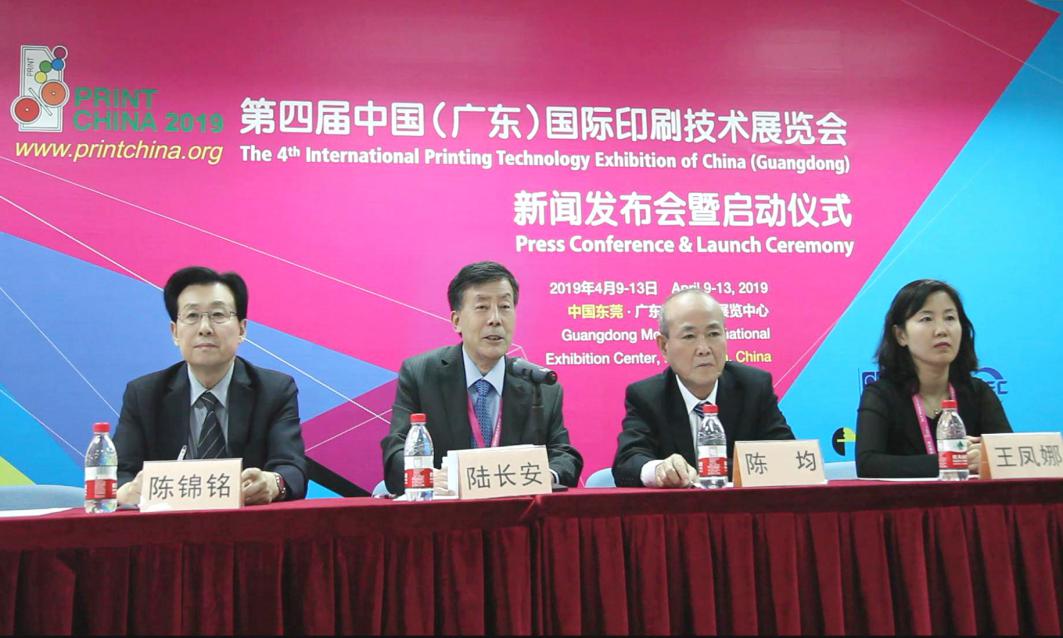 The North and the South Shows work hand in hand for win-win result
As vice chairman Lu Chang'an has pointed out, China Print and Print China are sister exhibitions. Thanks to years of cultivation, they both have grown into the largest printing exhibitions in China and the second largest in the world by comprehensive economic and technical indicators. China Print is organized by China Print Show Company Limited and co-organized by Print China Show Company Limited while Print China is organized by Print China Show Company Limited and co-organized by China Print Show Company Limited. Though with different market coverage (one for the southern market and the other for the northern market), these two exhibitions are under the centralized leadership of the same Organizing Committee with the same planning idea and operation process. They are interrelated and promote one another for positive interaction and coordinated development. Through collaborative innovation and being united as one, they make up the dynamic landscape of China's printing industry.
Print China 2019 aims high and is much anticipated
Vice chairman Lu Chang'an said, Print China 2019, themed on intelligence leading, integrative innovation, service transformation and green development, will stick to high-end brand positioning, global market expansion, standard business process and continued service innovation. Exhibitors will be pertinent and exhibits will be strictly selected, with an extensive source of buyers. Aside from a full and extensive display of advanced traditional printing equipment and materials, the exhibition will focus on presenting cutting-edge printing concepts, technologies, equipment and materials and printing modes which are the result of integrative innovation between modern high technologies and the traditional printing sector. Innovation elements will be pooled, innovation results displayed, innovative products promoted and innovation direction guided to build the incubation base for new industrial technologies in China and the world, the window for display of new products, and the platform for transaction of new brands. The ultimate goal is to turn the exhibition into the booster and guiding station for robust, balanced and coordinated development of the Chinese and world printing industries. The coming event, with up to 140,000 m2 of display area, is anticipated to attract over 1,200 exhibitors and 200,000 professional audiences.
Print China 2019 features colorful concurrent activities
Vice chairman Lu Chang'an finally indicated that over 60 summit forums and technological exchanges will be held concurrently during Print China 2019 to pool wisdom and inspire thinking towards leading the trend of the world printing technologies. Among them, major events include Forum-PT 2019, The Second Asian﹣Pacific Day, Asia Print 2019, Global Print 2019, The Award-giving Meeting for the Science and Technology Award of China's Printing Equipment, 2019 China Digital Printing Summit Forum, and China Packaging Printing Development Forum.
Be united and devoted to presenting a great exhibition and scaling new heights
After the Press Conference, as witnessed by all the participants, the guests of honor pressed down the start button for Print China 2019 amidst flying confetti and thunderous applaud. It signified the smooth transition from China Print 2017 to Print China 2019, as the theme activity kicked off with the press of the start button. With this, the preparatory work for the exhibition was launched across the board. For the next two years, South China, and in particular, Dongguan City will once again become the focus of the world printing industry. More than 120 people attended the Press Conference and Launch Ceremony, including officials from the competent government departments of Dongguan and other provinces, cities and autonomous regions in China, responsible persons at Guangdong Modern International Exhibition Center, heads of packaging associations in various provinces, cities and autonomous regions in China, as well as from Hong Kong, Macau and Taiwan, heads of packaging associations from Malaysia, the Philippines, Indonesia, Korea, Thailand, Vietnam, Pakistan, Bangladesh and other related countries, representatives of Chinese and foreign exhibitors, such as Heidelberger, HP, KBA, KOMORI, Beiren, Founder, Masterwork, Hans Gronhi, Jingmada, Shengtu, Fuji Xerox, Konica Minolta, Ricoh, Canon, Zhongde Group and Lianqiang Group, representatives of Global Print, Asia Print and other international printing organizations, journalists with professional Chinese and foreign media, including India, Indonesia, Korea, Australia, Pakistan and Russia.
At the Press Conference, representatives present at the meeting also had in-depth exchange of view with officials from the organizers regarding visit to and exhibition at Print China 2019 as well as exhibition services. They praised the success of Print China 2015 and were confident about the preparatory work for Print China 2019. Looking forward to the successful holding of Print China 2019, they were eager to support the preparation of the exhibition with concrete actions. With great passion, active response and dedication, they would work together to build a community of common destiny for the world printing industry and create a splendid new chapter for this industry in the new era by building up consensus, seizing the opportunity and scaling the new heights.