​Packaging and Postpress Enterprises Give Their Full Support to PRINT CHINA 2019: We Must Stand Forward for It!
Currently, the major proposition for the printing industry is how to realize the transition from high-speed development to high-quality development, which is an innovative path from technology to management in a bid to meet the people's good life expectation and solve the problem of unbalanced development, completing a new shift. The packaging printing industry, which accounts for more than 75% of the total output value of the printing industry, has become the focus of the industry. On April 10, Mr. Chang'an LU, Vice Chairman of Printing and Printing Equipment Industries Association of China (PEIAC), together with Ms. Fengna WANG, Deputy Secretary-general of PEIAC, and Ms. Yina REN, Secretary-general of Packaging and Printing Division of PEIAC, visited five companies including Masterwork, BOBST, Zhejiang Dayuan, Yancheng Hongjing, and ST, hoping to explore the development possibility of packaging and postpress...
Masterwork Machinery Co., Ltd.: Forge a Chinese brand recognised globally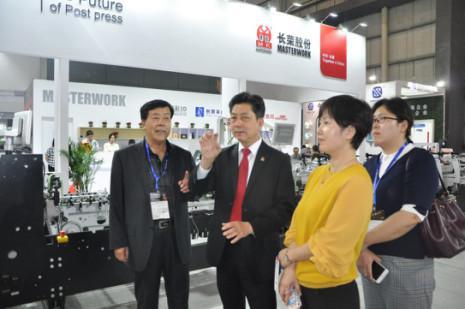 Masterwork Machinery Co., Ltd., a small factory with only a dozen people when established in 1995, has developed into a leading enterprise in the domestic packaging and post-press field, and has realized the leapfrog from made in China to created in the world. It was listed on the Shenzhen Stock Exchange's Growth Enterprise Market in 2011, due to its courageous attempts for new steps.
At the exhibition site, in addition to introducing the displayed products to Vice Chairman Chang'an LU, Tianjin Masterwork CEO Lianseng CHUA also specially recommended the 3D direct printing technology developed by its holding subsidiary Tianjin Rongcai 3D Technology Co., Ltd. It only needs to print once, then polish oil, and after special processing, you can present 3D image effect. Mr. Chang'an LU acknowledged the innovative spirit of Masterwork and noted that innovation is the foundation for leading the industry in transformation and upgrading.
In a conversation with Vice Chairman Lu, Mr. Chua said with emotion that while leading the company to explore the international market in the early days, he discovered that foreign markets, especially the US market, did not recognize Chinese brands highly. They took a refusal attitude toward Masterwork's products. After lots of efforts by the company, these markets realized that Masterwork was different from the other Chinese brands they had in mind. Therefore, Masterwork's equipment sales also increased. As we can see, to forge a globally-recognised Chinese brand is the orientation for Masterwork. The simple and stylish devices on display, such as the MK1060CSB die-cutting machine and MK 1060DP R sheet-fed inkjet printer marked another step of globalisation. As a matter of fact, the high-quality development we often talk about covers not only the advanced technologies, but also the art and practicality of design, as well as the extension of services, etc., which are all Masterwork considers.
Talking about the development of the industry, Vice Chairman Lu and Mr. Chua both indicated that the industry is picking up the upward momentum. According to Mr. Chua, sales of Masterwork reached a new level last year, and sales in the first quarter of this year were also very encouraging. At the same time, he is eagerly looking forward to PRINT CHINA 2019. Masterwork will be present with a 1,200 square meter booth to display the company's innovative technologies and products, hoping to give an impetus to the development of the printing industry.
BOBST, leading the industry with constant innovation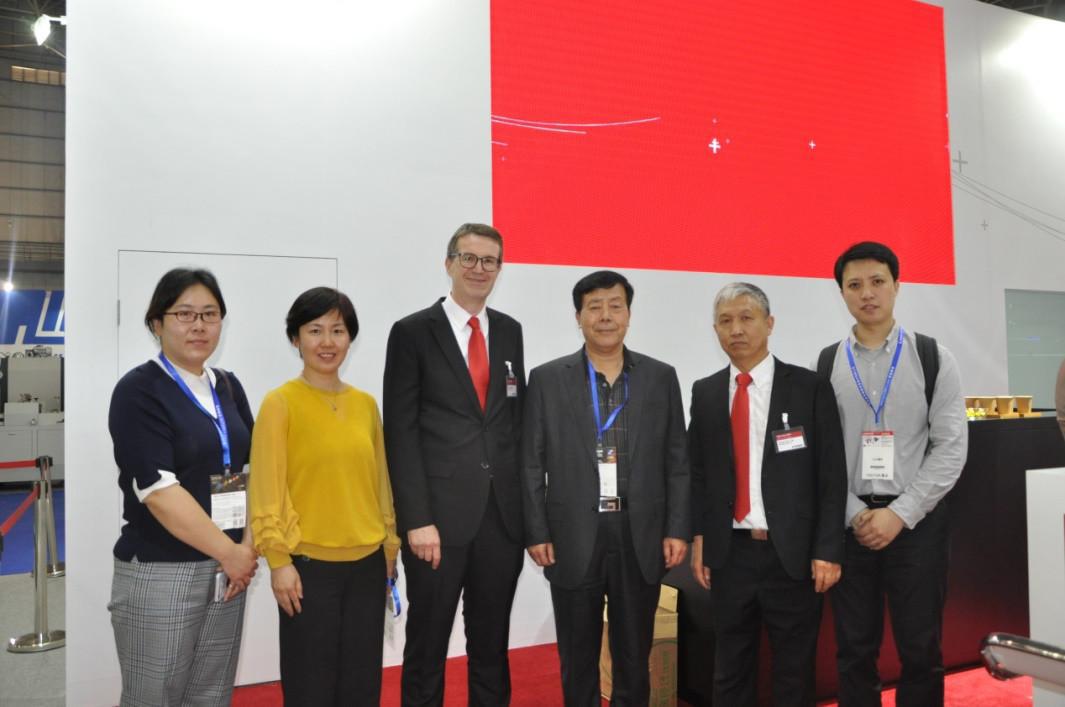 BOBST, who has just had its 128th birthday, deserves the title of Pioneer in the global packaging and printing industry. With its superb production technology and advanced management concepts, it provides packaging and printing customers with first-class production equipment and services, and can provide a full range of solutions in accordance with the development needs of customers. In the course of its 128 years of growth, BOBST has experienced both success and frustration. However, what has kept BOBST going on should be its gene of taking root in innovation. Vice Chairman Lu mentioned that he had visited BOBST's headquarters and its hundred-year-old hard-core customers. He believed that it was because of BOBST's products and services that have won the supports from customers, and he also hoped that BOBST can lead the reform and development of the industry with continuous innovation.
As a vanguard of the packaging industry, BOBST will focus on the combination of printing and environmental protection, in addition to the constant innovation in technology. After multiple aspects of attempts in France, it has put forward a technology that can make the colour and the layers of the flexographic printing press very close to the offset press, so that both the printing quality and the environmental protection performance can be achieved. Steve Creasy, director of marketing and sales at BOBST (Shanghai) Co., Ltd., said that BOBST will continue to try all means to make itself better in this industry.
BOBST entered the Chinese market as early as the 1980s and has provided Chinese customers with a range of products and services. Now, except for the manufacturing plant in the Songjiang Industrial Zone in Shanghai, it is reported that it is once again building a plant in Changzhou, with all the facilities and construction standards being the highest criteria in the world. Therefore, BOBST has attached great importance to this factory. According to Steve Creasy, the Changzhou factory is mainly engaged in web equipment, specifically in terms of gravure printing machines and laminating machines, which mainly serves the plastic packaging market.
During the conversation, Vice Chairman Lu revealed that the association predicts that in the future China's packaging industry will grow at a rate of more than 6%. This shows that the market has a great potential and the demand for packaging and post-press will continue to increase. According to customs data, 60% of the imported printing equipment is purchased by customers in the Guangdong region. Steve Creasy is also bullish over the development of the Chinese packaging market and stated that it will participate in PRINT CHINA 2019 with an over-1,000-square-meter booth. The exhibition will be held in Dongguan, Guangdong next year. It will strive to open up a new horizon in the packaging market with innovative technologies and environmental protection concepts.
Dayuan, Hongjing, and ST: Compete for market with strength
Dayuan, located in Zhejiang Province, focuses on die-cutting/slitter equipment; Hongjing, located in Jiangsu Province, focuses on paste box (box) machine; ST, located in Guangdong Province, focuses on shell machine. They are all national enterprises that have taken root in the post-press area and cultivated international visions. On the exhibition site, Jinzhe CAI, President of Dayuan, Chunhua PANG, President of Hongjing and Mingzhu TUO, General Manager of ST could not help hiding their proud in smiles when introducing their products.
At Dayuan's booth, the words were written in bold blue letters. "Dayuan is a professional manufacturer of die-cutting machines and slitting machines. In 2017, the sales of die-cutting machines exceeded 500 sets, and sales of slitter exceeded 300 sets, and the current sales rank first in the country." They showed full confidence for their own products. President Pang revealed that the company's export business accounted for more than 30% of its total business, and it is still rising. The company plans to establish branch factories in Wuxi and Zhejiang. General Manager Tuo also proudly stated that one of its products has captured customers in a number of markets, including the liquor package market such as Maotai, the cigarette package market, the high-end luxury jewellery market, and the cosmetics market. For the future development of packaging printing, all three expressed an optimistic attitude. In their eyes, the pace of the spring is drawing near. Vice Chairman Lu confirmed their feelings with a set of figures. He said that according to the statistics of the customs, the import volume of offset presses in 2017 was 30.8% higher than that of 2016, and for January this year, the import amount of offset presses was USD60.81 million, an increase of 70.05% year-on-year. All this shows that the printing industry has begun to pick up.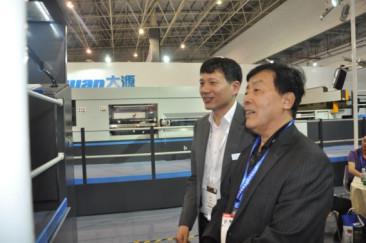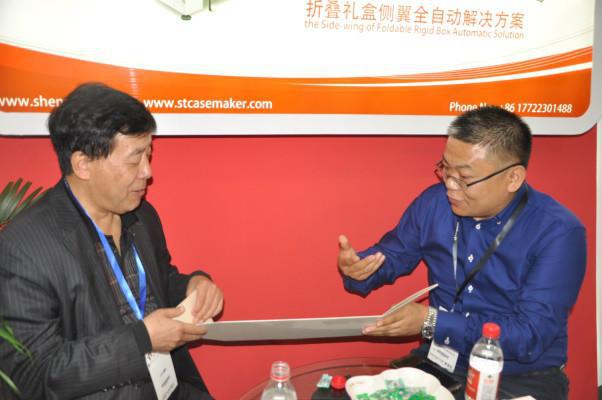 For the market's expectation, and with the recognition of corporate brands and products in the market, the three companies have more confidence in relying on the intrinsic strength to tap the market. They particularly emphasized that they will actively participate in PRINT CHINA 2019, in a bid to gain more through the platform of the exhibition.