PRINT CHINA is Invited to Attend EFI Press Conference and Two Parties Carry out In-depth Exchange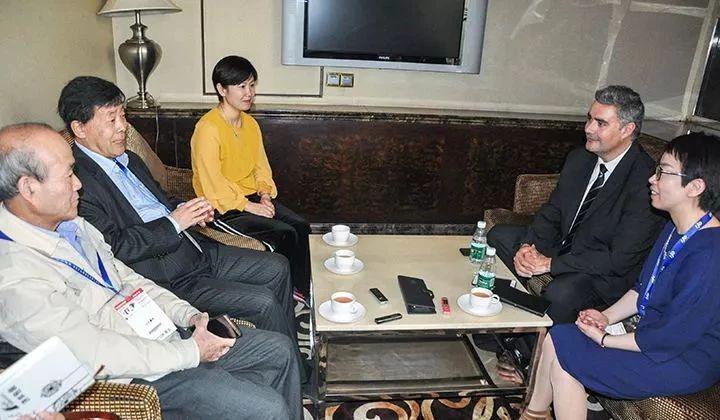 With the tenet of "Printing Everywhere", EFI has been bringing advanced technologies to multiple industries such as textiles, tiles, advertisements, and labels, thanks to its 30 years of experience in printing. Today, EFI is extending its business to the corrugated packaging field to help corrugated packaging companies look for a way out to increase their value via a packaged solution including software, ink, and equipment. On April 11, EFI held a press conference to highlight its step-by-step initiatives for the corrugated packaging market. Mr. Chang'an LU, Vice Chairman of Printing and Printing Equipment Industries Association of China, Ms. Fengna WANG, Deputy Secretary-general of PEIAC, Mr. Jun CHEN, Chief Consultant of Guangdong Printing Association, and Mr. Harry ZHAO, General Manager of China Print Show Company Limited, were invited to participate in the meeting, and conducted in-depth exchanges with José Luis Ramón, General Manager of the Industrial Printing Business Unit of EFI.
Next Stop: Corrugated Packaging
What will the future of printing be like? For this proposition, Vice Chairman Lu and José Luis Ramón reached a consensus. They both expressed optimism. José Luis Ramón said, when it came to printing a decade earlier, most people took it to be a sunset industry. Now that printing is everywhere, its use in furniture, tiles, wallpapers and other carriers makes it a fashionable industry. Vice Chairman Lu said that printing has already broken the shackles of the paper carrier, and that it is affecting all aspects of life, as well as all areas of industry. The development of society also promotes the advancement of printing, such as the rise of mobile payment, which makes the two-dimensional code become inevitable, thus providing new development space for the development of digital printing.

For the next opportunity for ink jet printing development, José Luis Ramón gave the answer, namely the corrugated packaging market. According to José Luis Ramón, the foundation for the promotion and expansion of the corrugated packaging market stems mainly from several points: First of all, consumers' shopping methods have begun to change. Often, more than 50% of products in shopping carts are products that are determined by packaging. Second, luxury packaging, such as wine, needs special designs to attract consumers. Third, the popularity of online businesses and the need for e-commerce business operations have made small batches and personalization a trend. Vice Chairman Lu fully echoed with the judgement of José Luis Ramón. He emphasized that targeting at the development trend of the printing industry, an exclusive hall will be set for corrugated box in PRINT CHINA 2019 which will be held next April.
Market Focus · Digitalisation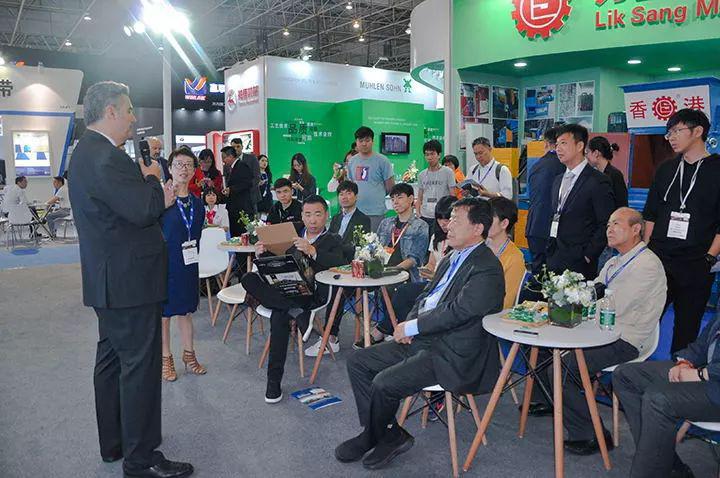 EFI is a world-renowned production process provider with a high market share; it is also a leading supplier of industrial inkjet printing, specializing in advertising, textiles, packaging and building materials. Currently, it has installed and used more than 4,000 industrial inkjet printers in the world. It is also a well-known ink manufacturer in the industry. It not only provides LED UV inkjet inks, but also provides water-based inks for textile printing. The reason why EFI can be recognised by industrial companies can be mainly attributed to its stress on innovation. It is reported that the company uses 15% to 20% of its total revenue on R&D of innovative technologies.
EFI, which is well-established in multiple segments, can provide customers with closed-loop ecological solutions including software, ink, and equipment. The same applies to the corrugated packaging market. Its ecosystems include: EFI Nozomi printers, high-quality EFI inks, powerful EFI Fiery digital front-end technology, complete end-to-end corrugated business and production processes - EFI Corrugated Packaging Suite, and corrugated line management system technology - EFI Escada. José Luis Ramón specially introduced the EFI Nozomi 18000 Printer to the participants. Designed specifically for the corrugated packaging industry, it uses LED-UV inks to make the picture brighter without lamination, and the printed image is non-slip, anti-slip, and lastingly bright. In addition, orange and violet are added. According to statistics, when the number of prints is less than 20,000, the single-sheet cost of EFI Nozomi 18000 is lower than traditional offset printing. At present, twelve sets of the equipment have been sold in the United States, Australia, Spain and other countries, and since the beginning of this year, it has been expanding globally at a rate of nearly two sets per month, and the sales are keeping upward continuously. José Luis Ramón stated confidently that for the corrugated packaging market, perhaps today's digital application is still less than 10%, but after ten or five years, China will become a very important market of digitalization. Vice Chairman Lu sang highly of the products of EFI, especially the relevant software. He indicated that with the continuous rise in labour costs, paper costs, and environmental protection costs, the profits of printing companies have been falling sharply, so companies have started to control process in order to improve production efficiency and seek profit through lean management.

For the corrugated packaging market, EFI seems to be full of confidence. As for its more performance in the Chinese market, let's wait and see. It's worth anticipating. Having already participated in PRINT CHINA 2015, EFI indicated that it will continue to strengthen cooperation with the Association and promote the digitalization development of the printing market.