​AGFA: Giving Impetus to PRINT CHINA 2019 and Cooperating with Printing and Printing Equipment Industries Association of China in Green Printing
The 26th Shanghai International Ad & Sign Technology & Equipment Exhibition was grandly held in National Exhibition and Convention Center (Shanghai) on March 28-31, 2018. On the afternoon of March 29, Mr. Chang'an LU, Vice Chairman of Printing and Printing Equipment Industries Association of China (PEIAC), Ms. Fengna WANG, Deputy Secretary-general of PEIAC, Ms. Yina REN, Secretary-general of Packaging Sub-association of PEIAC, Ms. Xiaoyuan XIA, Project Manager of China Print Show Company Limited and journalists of CCP114, key cooperating media with PRINT CHINA 2019, came to AGFA booth, No. 3 Hall of the National Exhibition and Convention Center (Shanghai), to learn about AGFA's status quo in China.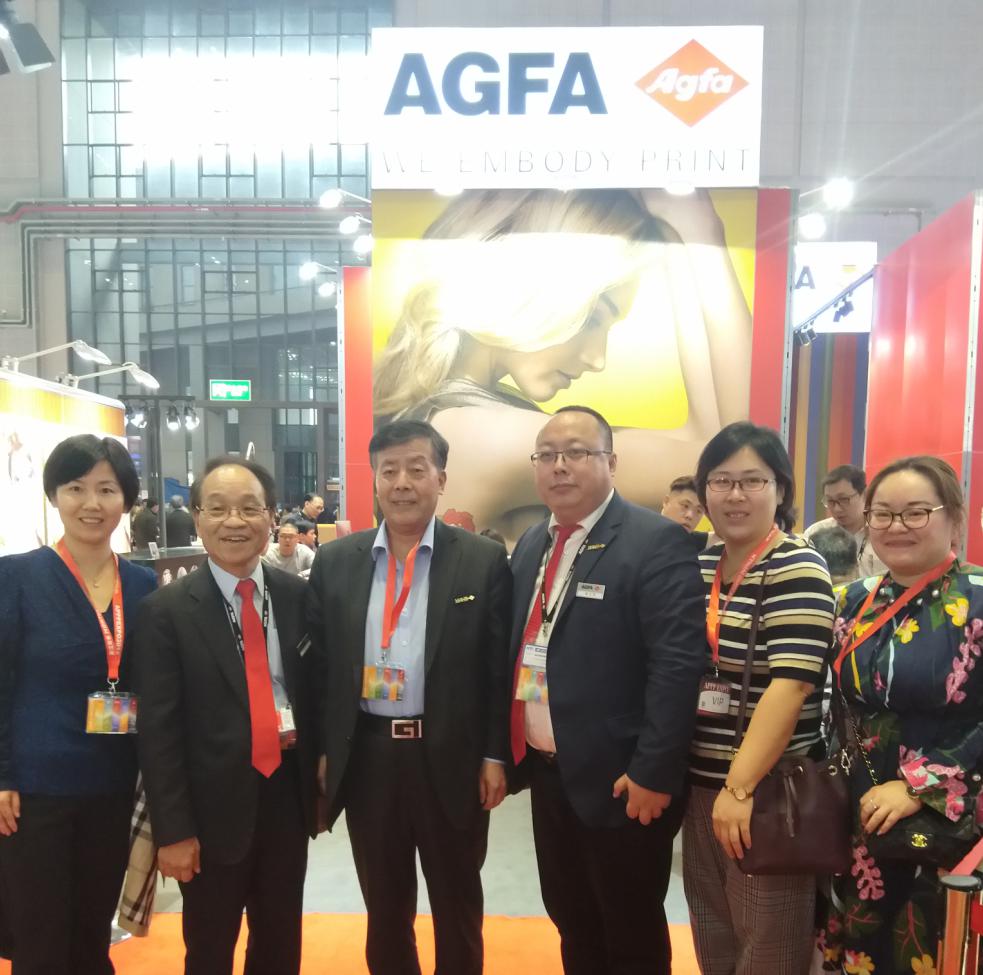 According to introduction, "AGFA will make efforts in three aspects this year. Firstly, AGFA will continue to vigorously promote green printing in the traditional printing. AGFA has already made remarkable achievements in the green development of printing supplies. Secondly, it will uphold the concept of developing large-printing under the support of national policies and strive to develop new technologies for inkjet printing. Thirdly, AGFA will open up new space for Indian enterprises to adapt to the development of the Internet in the field of e-commerce. "
Through in-depth communication and exchange between the PEIAC and AGFA, both parties came up with a strong resonance in the concept of large printing and green printing. AGFA also briefed Vice Chairman Lu on the company's latest achievements in advertising, building materials, printed electronics and reproduction of artworks.
The person in charge of AGFA introduced: "Whether it is industrial manufacturing, textile and building materials, or printed electronics, our printing industry has a very good potential, just like our company's slogan: Infinite innovation, incarnation of printing art. AGFA has always sought to make progress in large printing. At the same time, it hopes that the Association will give the company great help. "
Mr. Chang'an LU, Vice Chairman of Printing and Printing Equipment Industries Association of China, indicated, on the one hand, the Association is willing to actively support printing equipment suppliers to use their superior technologies to provide new solutions for the printing companies. For example, the jet printing deposition technology displayed at the exhibition has a broad market in the field of advertising and industrial printing. On the other hand, with the comprehensive advancement of the national environmental protection policy, PEIAC also shoulders the responsibility of finding a green printing technology solution for the country. For example, AGFA has industry-leading technological advantages in the field of traditional printing and plate making. This will offer a win-win opportunity for the green printing section of PRINT CHINA 2019 exhibition. It will provide equipment manufacturers with a professional display platform and bring new opportunities for the printing industry.
Finally, AGFA stated that it will further strengthen communication and cooperation with PEIAC. It will actively support the preparations for PRINT CHINA 2019 and will give high expectations to the Green Printing Zone set by the Association.